Pearson Product-Moment Correlation (cont...)
How can you detect outliers?
An outlier (in correlation analysis) is a data point that does not fit the general trend of your data, but would appear to be a wayward (extreme) value and not what you would expect compared to the rest of your data points. You can detect outliers in a similar way to how you detect a linear relationship, by simply plotting the two variables against each other on a graph and visually inspecting the graph for wayward (extreme) points. You can then either remove or manipulate that particular point as long as you can justify why you did so (there are far more robust methods for detecting outliers in regression analysis). Alternatively, if you cannot justify removing the data point(s), you can run a nonparametric test such as Spearman's rank-order correlation or Kendall's Tau Correlation instead, which are much less sensitive to outliers. This might be your best approach if you cannot justify removing the outlier. The diagram below indicates what a potential outlier might look like: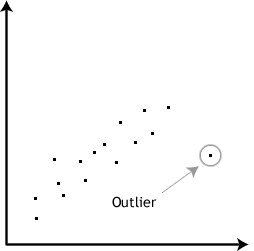 Why is testing for outliers so important?
Outliers can have a very large effect on the line of best fit and the Pearson correlation coefficient, which can lead to very different conclusions regarding your data. This point is most easily illustrated by studying scatterplots of a linear relationship with an outlier included and after its removal, with respect to both the line of best fit and the correlation coefficient. This is illustrated in the diagram below: